More Ram or Faster Processor
Processor and Ram both fall in the category of one of the computer's most fundamental components. The question "What do you need? More ram or faster processor" may vary according to the user's requirements.
The processor plays an essential role in managing the system and gaming process. On the other hand, ram stores the outcome of those processes carried out by the processor.
First, we talk about normal browsing and streaming. Which one is more important? And, the answer is "Ram." Because in normal browsing and surfing on the internet. If we open task manager, we will see high ram usage. Whereas the internet browsers don't put that much load on the processor.
For instance, Google Chrome occupies a large portion of ram usage. It is also considered a browser that requires four or more Gigabytes of Ram to function smoothly.
The ram is the main requirement of the browser. So, what needs to be upgraded in terms of internet surfing is the ram. You must need to rad more about which one gives more output CPU vs GPU or a APU
If we talk about gaming, then we don't have one answer. Because some games are CPU intensive, whereas others are Ram intensive. Ram intensive games focus more on the ram instead of the CPU or hard drive.
So, the answer to the question that which is more better more Ram or faster processor? Is that it may vary for people who want to upgrade for gaming and for those who want to upgrade for faster user interface and surfing.
| | |
| --- | --- |
| For Internet Surfing/Streaming | More Ram |
| For Gaming – Ram intensive | More Ram |
| For Gaming- CPU intensive | Faster CPU |
| For Normal Usage | Faster CPU |
More Ram or SSD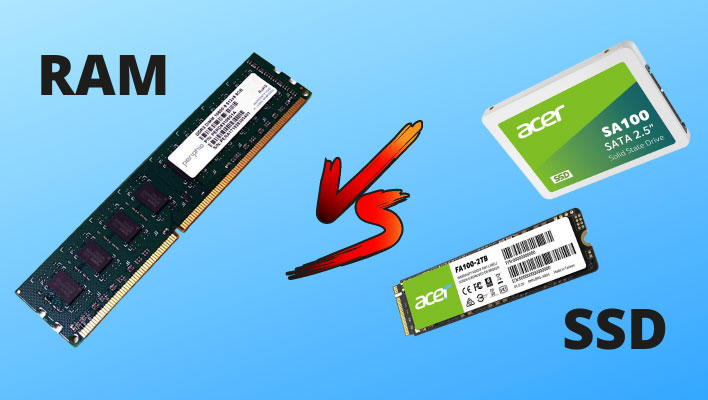 Now moving further to the next problem, "More Ram or an SSD." As we have discussed earlier, the usage or the purpose of the work determines what is needed to be upgraded.
SSD is the new technology that replaces standard old hard drives in terms of speed. Older hard drives perform very slow in front of these new Solid-State Drives (SSD). The SSDs are faster because their RPM is clocked at higher rates than the hard drives.
It helps a lot in terms of gaming and normal interference to the computer.
Normal Usage/Internet Surfing
If we talk about the preference of one product for another in terms of normal usage. Then SSD takes advantage of Ram. SSD operates much faster and opens tabs and programs at a much quicker pace. That makes it superior to ram.
But SSD has no tangible impact on internet surfing. It also plays a role in opening the internet browser faster than a regular hard drive, in addition to interference.
As mentioned earlier, Ram takes the game in terms of internet browsing in terms of speed and efficiency.
In terms of gaming, there are two perspectives here. Ram takes advantage of one, and Solid-State Drive (SSD) takes advantage of others. Now, for the first point, ram is more important for the majority of the games in order to hit 60 frames per second.
While on the other hand, SSD only reduces the loading and opening time of the games and programs. For instance, if a game loads in 5 minutes on a standard hard drive. It will load only in a minute on a solid-state drive (SSD).
| | |
| --- | --- |
| Faster Load Times (SSD) | |
| Effect on Frames Per Second (SSD) | |
More Ram or GPU
Now moving on to the third point of the article, we have the problem stated by the people. That is what should be upgraded if we can buy more Ram or a powerful Graphics Card (GPU).
There can be three scenarios if you want to choose between upgrading ram or a graphic card.
Either you want to make your browsing/ normal interference faster and smoother
Either you want to get better frame rates while gaming
Or you want to upgrade for your freelancing/work purpose (Editing)

For Internet Surfing/Normal Interference with PC
If we want to consider any option for making our normal interference or internet surfing smoother. Then you should consider upgrading your ram instead of spending money on a new graphics card.
Because graphics cards won't have any effect on faster interference or internet surfing as Ram would.
A significant reason for the up-gradation of the graphics card or Ram is gaming. All gamers want to do gaming at a minimum of 60 frames per second without lagging or stuttering.
In this case, ram and graphics cards both play important roles in gaming. Like some games need more Ram, or some are CPU intensive.
But Graphics cards dominate the 60 frames needed. GPUs are more important than Ram in terms of gaming.
So, Graphics cards (GPU) are more important here and win the cause.
Upgradation is needed when you shift from normal interference to freelancing or online work because online work is mainly related to video editing or writing. If you are a content writer. Then there is no need to upgrade your graphics card.
Because MSWord or Excel may put a burden on your ram, there is no need to upgrade your graphic card if you are a writer. But you can consider upgrading your ram.
But if you are a video editor or your work is related to unity or some other stuff. Then your Graphics card upgrade is necessary because the fundamental component in editing, gaming, and in-depth computer work is graphics cards.
Conclusion
So, we have analyzed a number of points and concerns of users when they want to upgrade their computer components. Some of the covered topics are.
What should be upgraded in terms of gaming?
Effect of Solid-State Drive
Does Solid State Drive dominate Ram in terms of performance?
What is the best upgrade when you are a freelancer and do online work?
Some of the Other Related Articles